By Nettitude
We are pleased to announce that Nettitude will be presenting at today's CTIPs conference in London. The event will focus on key themes relating to the professionalisation of cyber threat intelligence and will bring threat intelligence providers and the buying community together to explore how they can collaborate more effectively to develop the effectiveness of the threat intelligence industry.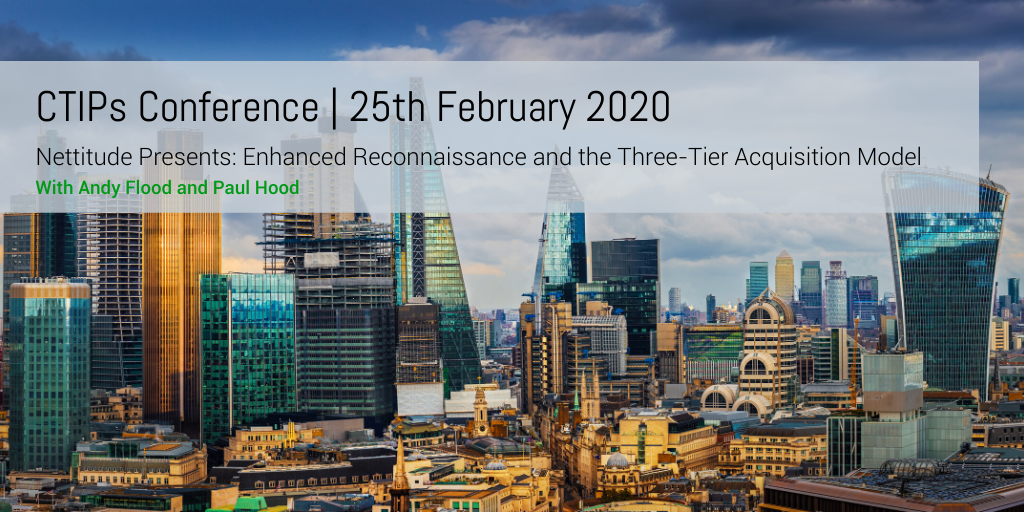 The CTIPs conference will cover:
– An overview of CTIPS and CREST initiatives in cyber threat intelligence
– Presentations from consumers of CTI that look at practical applications
– An in-depth look at emerging models and frameworks
– Presentations from producers of CTI to share experiences
– Real-world investigations, case studies and research
– Exploration of new methods, analysis techniques and approaches
Nettitude will be represented by our Senior Threat Intelligence Analysts - Paul Hood and Andy flood, who will be presenting a talk on 'Enhanced Reconnaissance and the Three-Tier Acquisition Model'. An overview of the talk can be seen below -
Enhanced Reconnaissance and the Three-Tier Acquisition Model – Overview
Threat Intelligence-driven testing continues to shine brightly as the leading light ahead of a growing number of cybersecurity frameworks, methodologies and regulatory requirements. Nettitude have invested considerable internal effort into new approaches to TI acquisition, with the guiding principles of retaining the advantages of the current methodology, whilst increasing analyst confidence and converting minimal leads into substantive and unique intelligence returns. Adding value to TI engagements via more proactive and technically-sophisticated means has been at the heart of this endeavour, and has shown significant benefits in recent reporting. Nettitude would like to present a tiered TI acquisition model descriptive of both passive and proactive TI tooling and to initiate a short roundtable discussion to gauge peer reception and solicit improvements to the formula.
The event will be taking place from 2-7 pm and is free to attend. Spaces are going quickly so be sure to reserve your place by emailing marketing@crest-approved.org. Further venue details can be found here.
We look forward to seeing you there!