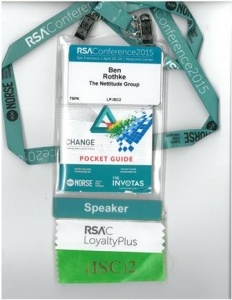 Ben Rothke – Senior eGRC consultant
The RSA 2015 US conference was last week and my feet have only just stopped aching, in a good way that is.
For the uninitiated, the RSA conference is the world's largest information security conference and is an amazing conference to attend.
Nettitude was well-represented at the show with myself as a speaker and our CEO Rowland Johnson and CTO Ben Densham on the expo floor.
Some of the main topics in this year's conference were the Internet of Things (IoT), mobile security, and cloud security. But everything information security and privacy under the sun was discussed in some form.
Here are some of my highlights and observations from this year's conference:
RSA is big, and getting bigger
About 33,000 attendees and over 400 security firms spent the week together in San Francisco, CA. The conference has increased in size every year since its inception in 1991.
Information security is now prime time
Until recently, information security was a topic dealt with primarily in technical circles. With a myriad of data breaches and Snowden, information security is now mainstream. Nearly every major news outlet, from the Wall Street Journal, NBC, New York Times and more had reporters at the conference. Information security is now in the spotlight, as the security breaches and incidents from the year past are now major news stories.
Unique opportunity to network with industry leaders
The security industry has many luminaries and there isn't a better place to meet them than at the conference. Ron Rivest and Adi Shamir (the R & S of RSA) are regular speakers, as are experts such as Whitfield Diffie, Bruce Schneier, Paul Kocher, Ed Skoudis and far too many to list here. All of them are quite approachable and open to lending an ear and sharing advice. It's worth travelling far just to get that accessibility.
Cloud and big data security are now mainstream
A few years ago at RSA, cloud and big data security were still in their infancy. They are now mainstream and there were many vendors and sessions detailing how they can be secured.
Come smart, leave smarter
If there is a downside to the conference, is that there simply not enough time to attend everything you want to. There are lots of great sessions to choose from. Some of the valuable sessions I attended were:
Endpoints in the New Age: Apps, Mobility and the Internet of Things by Benjamin Jun
Security in an Age of Catastrophic Risk by Bruce Schneier
Tools of the Hardware Hacking Trade by Joe Grand
Terror Gone Social: The Islamic State and Social Media by Kenneth Geers and James Foster
Into the Woods: Protecting Our Youth from the Wolves of Cyberspace – an interesting panel led by Sandra Toms, with fascinating insights from forensic pediatrician Dr. Sharon Cooper, and Alicia Kozakiewicz of The Alicia Project, who highlighted her abduction and rescue, and the dark side of the Internet
Vendors, lots and lots of vendors
With over 400 vendors, there were countless t-shirts, pens and other giveaways to fill many bags with. Some of the vendors will bring staff to the booth with strong engineering experience. If you use a vendor, or have technical questions about a product, you can often find some technical folks to speak with. And they are often more than happy to as they would rather talk tech than marketing.
Some of the interesting new firms I ran into at the show were:
ZeroFOX - cloud-based social media risk assessment tool
Bastille Networks – IoT security
Trineba Technologies - secure communication, data transfer and storage
Cavirin – cloud management monitoring
Books, lots and lots of books
As I have a book review blog, the DigitalGuru book store had a lot of new titles available, many of which were of particular interest to me.
Uber
While not directly related to information security, this was my first foray into using Uber; whom I used 6 times during my stay. I asked all 6 drivers what they thought of Uber and they all said they loved being Uber drivers. I challenge you to find 1 out of 100 New York City taxi drivers who say they like working for their company.
San Francisco is a perfect location for the service given its relatively dense size. Uber is a perfect example of where a technology and business need fit perfectly.
RSA 2016
For any information security professional, RSA is the place to be. So mark your calendars, the 2016 conference will be held February 29 - March 4, 2016.
To contact Nettitude's editor, please email media@nettitude.com.