Cybersecurity testing is more crucial than ever. Whilst you're probably familiar with our penetration testing services, you might not know about our bug bounty platform. And yet, it's incredibly valuable to maximise your security.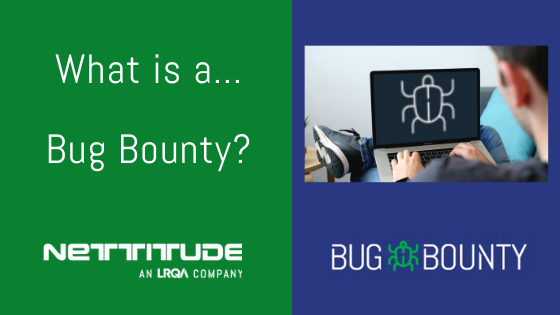 Offering you continuous assurance - not just testing at a particular point in time – a bug bounty gives you real-time insight on vulnerabilities (bugs) following simulated attacks from a wide range of experienced 'bounty hunters'. Unlike other forms of testing, you only pay for outcomes.

Bug bounty testing should have a firm place in your programme and sit alongside penetration tests. Together, they'll give you the utmost protection from potential cyberattacks.
How a bug bounty works
Crowdsourced, a bug bounty program typically runs for many months. Potentially open to hundreds of highly skilled 'hunters' with no prior knowledge of your systems, this enables them to delve deep and explore areas neglected by fixed-timeframe testing.
That said, you remain in control. Starting with our default rules of engagement, you can tailor your program to focus on the most important areas of your organisation. We help you create the right scope from beginning to end.
Bug bounty testing prioritises depth over breadth. It's therefore likely to uncover vulnerabilities left untouched by other methods. Plus, all testing is carried out in real-time. There's no delay – you learn about a vulnerability to your system as soon as we do.
Keeping you safe
Like all forms of cybersecurity testing, you must feel confident it won't breach your security or disrupt day-to-day operations. You don't want to be left open to a real cyberattack.
This is where Nettitude's experience becomes incredibly valuable. Operating globally with a team of highly trained and experienced individuals, we're used to managing significant levels of risk for large organisations.
You can identify simulated bug bounty attacks by a specific IP address. We'll make you aware of this before your program starts. In this way, you'll never confuse a real attack with bug bounty activities.
Outcome-focused testing
You only pay when a vulnerability is found. There's no management or program fee. Plus, we can put a ceiling on your total pay-out so you're always in control of your budget.
If no vulnerabilities are found, you pay nothing.
Using CVSS version 3 (Common Vulnerability Scoring System), each bug is transparently scored from 0.0 (Information) to 10.0 (Critical), with Low, Medium, and High scores in between. The higher the score (and more severe the vulnerability), the larger the fee.
A critical vulnerability would risk catastrophic business impact. For example, it could be a remote code execution or an injection attack. For example, gaining access to sensitive customer data.
You'll have direct access to our platform so you're constantly aware of the situation. We can also set up SMS or email alerts to suit your awareness needs.
Importantly, the fee you pay for each vulnerability covers our advice on resolving it, answering unlimited questions from your team, and unlimited retesting by ours. We're by your side until the bug is fixed.
Five key benefits of bug bounty testing
Discover vulnerabilities in real-time – before your next penetration test
Find deeply buried bugs other tests never would
Draw on a larger pool of expertise for a fresh approach
Only pay for what they find
Directly control your scope and your testing budget
Why Penetration Testing is not enough
A bug bounty platform doesn't replace penetration testing. In fact, the two perfectly complement each other to ensure maximum protection.
Penetration tests are typically run over one to two weeks. They're short but intense. Ideal for compliance due to standard methodology use, they'll uncover as much as possible within a fixed timeframe.
When you create a penetration testing program, you're assigned one or two handpicked specialists. Not only will they scrutinise your technology, but they'll also look for weak spots within your people and processes too.
But no matter how good a penetration test is, time will always limit what's uncovered.
In contrast, bug bounty programs run over a much longer timeframe, using a wider pool of experts. With time to delve deeper into your technology, they'll uncover new vulnerabilities. Working in real-time also means you know about it instantly.
Yet, due to its wide remit, a bug bounty alone will not suffice for compliance.
By carrying out both programs, your organisation will be highly protected against damaging cyberattacks.
5 reasons you need a bug bounty program
A longer-term program reassures stakeholders you're protected
A large pool of expert 'bounty hunters' test your systems
It complements your penetration tests for maximum protection
Discover more vulnerabilities yet only pay for what's found
Test areas of your system often overlooked
Why Choose Nettitude?
Taking a holistic approach to cybersecurity, Nettitude supports you every step of the way. Our team boasts the highest accreditations, such as CREST, coupled with incredible experience and knowledge from worldwide cybersecurity testing. We're trusted by business leaders around the globe.
Vulnerability research and testing innovation are central to our business. We're constantly learning more and looking to the horizon. This ensures our testing remains relevant and timely – always carried out with the knowledge of the latest cyber threats.
Nettitude is known and regarded by regulators across the globe. We also employ ex-regulators within our team to ensure we understand exactly what they need from your cybersecurity testing.
By choosing Nettitude, you're leaving nothing to chance. You'll experience the most comprehensive testing coupled with ample advice and support.
In fact, you'll feel more secure, day in day out.
Find out about the Nettitude Bug Bounty platform here