By Nettitude Communications Team
Global cybersecurity services provider Nettitude today announced that Karen Bolton, EVP Americas and Chief Marketing Officer, will replace Founder Rowland Johnson as Chief Executive Officer, effective immediately.
Prior to Joining Nettitude in 2017, Karen held global leadership positions at Marsh Clearsight, a cloud-based software platform, serving the needs of risk management professionals. She will continue to be based at Nettitude's North American offices, demonstrating the company's commitment to growing its international business footprint. Karen will have responsibility for doubling Nettitude's cyber revenues over the next 4 years, whilst retaining its high-quality research led service lines. Karen, who has overseen the development of Nettitude's continuous testing capability, will be joining a small group of female CEOs that run technology companies.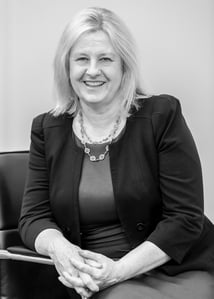 Karen Bolton commented: "It is a source of pride and excitement to be given the opportunity to lead Nettitude's continued growth. Cybersecurity risk impacts organisations globally and Nettitude is a world leading provider of threat-led cybersecurity services. My appointment also shows how cybersecurity can be a career choice for women in technology and I'm keen to support the continued advancement of women in cybersecurity roles."
Rowland, who led Nettitude through its successful acquisition by Lloyd's Register in 2018 and has gone on to oversee delivery of all key elements of its two-year post acquisition financial plan, is stepping down from his position in July 2020. Under Rowlands leadership, over the past two years Nettitude has opened up overseas offices in Asia and Europe and introduced new service offerings focused on Industrial Control Systems and Operational technology, whilst also maintaining year on year growth of 25%. As Founder of Nettitude, he has made the decision to continue supporting the business in the role of strategic adviser.
Rowland Johnson commented: "It has been a privilege to be the CEO of Nettitude. Over the past 17 years, I have had the honour of working with some of the greatest talent in the cybersecurity industry but now it's time for someone else to take on the mantle. I'll still be supporting the business, providing strategic guidance to Nettitude's leadership team as it continues to develop new research-led, cybersecurity services for an ever-growing customer base."

Paul Butcher, Managing Director - Lloyd's Register Business Assurance & Inspection Services, commented: "Rowland has been a driving force in Nettitude, successfully creating a market-leading business which has protected the cybersecurity interests of organisations around the world and we're fortunate he has chosen to stay on in the role of strategic advisor. I'm delighted Karen has accepted the position of CEO – she has already demonstrated significant expertise and leadership in her roles as EVP and CMO and I'm sure she will build on the company's past success to ensure an even brighter future for the business in the coming months and years."
Enquiries:
For all Nettitude related media enquiries, please contact:
Ilze Blaauw | Global Marketing Manager at Nettitude
UK Head Office
Jephson Court, Tancred Close, Leamington Spa, CV31 3RZ, UK
T: +44 (0)345 520 0085
www.nettitude.com
For all Lloyd's Register related enquiries, please contact
Beth Elliot | Global Marketing Communications Manager at LR
Lloyd's Register, 71 Fenchurch Street, London, EC3M 4BS, UK
T : +44 (0)20 7709 9166
E : news@lr.org
Notes to Editors:
About Nettitude
Founded in 2003, Nettitude is an award-winning provider of cybersecurity services, bringing innovative thought leadership to the ever-evolving cybersecurity marketplace. Leveraging our tenacious curiosity, we aim to operate at the forefront of the industry. Through our research and innovation centres, Nettitude provides threat led services that span technical assurance, consulting and managed detection and response offerings.
We are driven by a desire to build and deliver the best cybersecurity propositions in the industry and stay abreast of the evolving legislative and regulatory cybersecurity landscape. This helps our clients to prioritise their cybersecurity risks, enabling them to focus on the activities that are core to their business.
We aim to empower our clients, imparting knowledge, advice and assistance to help them deploy changes in behaviour, understanding, and where appropriate, culture. This methodology is at the core of our services, helping provide pragmatic cybersecurity for industries such as Finance & Banking, IT, Technology and Engineering, Maritime, Offshore, Retail, Healthcare, Manufacturing and Critical National Infrastructure.
About Lloyd's Register (LR)
We started out in 1760 as a marine classification society. Today, we're one of the world's leading providers of professional services for engineering and technology – improving safety and increasing the performance of critical infrastructures for clients in over 75 countries worldwide. The profits we generate fund the Lloyd's Register Foundation, a charity which supports science and engineering-related research, education and public engagement around everything we do. All of this helps us stand by the purpose that drives us every single day: Working together for a safer world.
In a world of increasing complexity – overloaded with data and opinion - we know that our clients need more than technology to succeed. They need an experienced hand. A partner to listen, cut through the noise and focus on what really matters to them and their customers. Our engineers and technical experts are dedicated to assurance. That means a commitment to embracing new technology, and a deep-rooted desire to drive better performance. So, we consider our customers' needs with diligence and empathy, then use our expertise and over 250 years' experience to deliver the smart solution for everyone.
After all, there are some things technology can't replace.